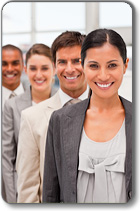 Ottawa's Best Certified Translation Services
Ottawa-Translations.com relies on three stable pillars of success to provide Ottawa with the best in professional translation services: Speed, Accuracy, and Price. We are the fastest, we are the most accurate, and we will beat any competitor's quote by 5%.
Accomplishing excellence in those three areas is not something we can brag about as a company – we owe it all to the fantastic people who make up our staff.
Ottawa Translators
Our translators are our star performers. It's their skill and versatility that make it possible for us to uphold our extremely high standard of quality in everything we do. We hire selectively for translation skill and subject knowledge. The majority of our translators have backgrounds in other fields, such as medicine, business, finance, engineering, and many more, making it possible for us to take on translation projects that other agencies wouldn't be able to complete.
Our translators work fast, and produce top quality translations, all the time.
Our Customer Service Staff
Our customer service staff and our Ottawa translation managers work around the clock, providing our clients with real solutions to their multi-language needs at all hours of day and night. There aren't many other translation agencies that you can call after hours, and then have your completed translation waiting for you the next morning!
We approach every new and existing client with a smile and a great attitude – we aim to satisfy you, no matter what!
Our System Administrators
One of the key factors in our ability to provide lightning fast translation is our sophisticated, custom designed systems. A lot of the administrative work involved in bringing a translation project to completion is handled automatically by our unique internal programs. We wouldn't be able to give you the high quality professional translation services we do, as fast as we can, at prices this low, if it weren't for our systems and the programmers who designed them and keep them working flawlessly. It's our systems that find the best translators for your projects, and keep the project schedule ticking so that everything gets done with no time wasted.
We're the best of two worlds – a company that offers a personal touch, backed up by a highly sophisticated computer system.