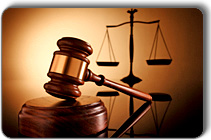 Legal Translation Services in Ottawa
Legal translations require special care and attention because they must have a single, governing interpretation that can be upheld in a court of law. They also require special care because of the specific legal terminology used and the need to accurately render these terms into their equivalents in languages they may not have exactly corresponding terminology in their legal systems. Legal documents such as patents, litigation matters, insurance policies and claims, futures contracts, shareholders' agreements and more need the special knowledge and skills of Ottawa-Translations.com superior translators.
We've created a specific legal translation division to service your needs better!
We translate both legal documents and provide interpretation services for depositions, hearings, client meetings, and other legal proceedings.
Technovate Translations Legal Translation Team
We work with a team of trained legal translation specialists who work in more than 150 languages and dialects. Not only are these translators native speakers of the languages they translate into, they are also knowledgeable in legal terminology and legal proceedings. This means that when you order a translation from us, your document will be translated by a specialist with a deep knowledge of both the language being translated and the legal proceedings underway, guaranteeing that your translation will accurately represent the sources language in the target language. Because we use only native speakers, this helps to ensure that every document is translated in culturally appropriate ways and with the utmost accuracy.
Our team has the experience and know how to handle all your legal translation needs!
However, Ottawa-Translations.com does not rest there. We use a second translator to review and approve every translation to guarantee that your translation is accurate and complete. With this extra layer of quality control, Ottawa-Translations.com is a service apart, offering the highest quality translations on any deadline. We support all of our clients' orders with our superior client care service, available to you 24 hours a day either by phone or online, including real time status updates on your order.