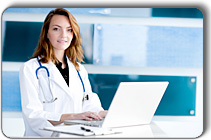 Medical Translation Services in Ottawa
Medical translation requires a level of care and accuracy unrivaled in virtually any other field. Medical translation can make the difference between life and death depending on how medical instructions and medical records are translated. At Ottawa-Translations.com, we understand how important every medical translation is, which is why we use the services of only the world's most qualified medical translators to ensure that every medical document we translate is fully and completely translated with absolute accuracy.
Accuracy is our central goal with any translation our clients entrust us with!
Reasons Why You Should Choose our Medical Translation Services!
All of our medical translators are native speakers of the language they translate into and have passed our rigorous qualification process, ensuring that they are not only fluent in the languages they translate but also have very good knowledge of medical terminology as well as the cultural background of the people who speak the languages they translate. This allows them to carefully translate both medical terminology and patient documents fluidly and accurately every time.
Medical translation covers a variety of document types, including but not limited to:
Medical translation of technical terminology into the language of your choice
Medical translation of technical terminology into layman's terms for patient use
Medical translation of medical texts and prescriptions
Medical translation of software for staff or patient use
Medical translation of medical labels
Medical translation of medical manuals and glossaries
Medical translation for pharmaceutical companies
There are an unlimited amount of medical documents that clients ask us to translate. Rest assured, our services come with a quality guarantee as well as a 30-day guarantee on any changes you might need for the translation.
See the Difference with our Translation Quality
No matter what you need translated, our team of dedicated and qualified medical translators has the skills and the knowledge to translate your material quickly, accurately, and fluidly. We can meet any deadline and ensure that every translation's accuracy is medical-grade by having a second translator review and approve every translation before it's delivered to you. We back up our translations with our superior client care experience, staffed around the clock to answer your calls and emails.
Wait no longer and have the premiere translation service in North America work on your projects today. We're only a phone call away… or request a free quote.