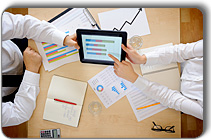 Marketing Translation Services in Ottawa
Translating for the marketing field requires special attention from translators because there are important subtleties that a simple, direct translation may miss. Marketing involves speaking directly to your audience in the language they use every day. This is not always the same as the "official" versions of a language. When you require marketing translation services, you need to ensure that your translator understands the specific dialect and the specific idioms and allusions used by the specific audience you want to reach. Anything less will mark you out as an outsider.
Fit right in with your client base – let our translators make your translation shine!
This is why Ottawa-Translations.com relies on a network of over 3000+ native speakers of the languages they translate into. As native speakers, they understand the culture and the background of the audiences you want to reach, and they know exactly how to translate materials to reach those audiences. This can be as simple as using a particular word or phrase, or as complex as adapting allusions and idioms to equivalents that are more familiar to the people you want to reach. But it also means making sure that every word and phrase is culturally sensitive and appropriate for your audience. The closer your marketing materials sound to the way a native speaker would render them, the more likely you are to find you audience receptive to your message.
Don't let a bad translation cost your company dearly – hire us today!
Because most of the world's people speak a language other than English, there has never been more reason for marketing translation services. When you order a translation from Ottawa-Translations.com, you'll receive a carefully considered, culturally appropriate, fluid, and accurate translation that captures the essence of what you want to say and says it in a way your audience will most likely accept and appreciate.
All of our translations are reviewed by a second translator to ensure that they are accurate and complete, and we back up all of our translations with our 24 hour client care service, available to you online and by phone whenever you need us.